online service
Contactpersoon:

Mr. Frank Zhan
Hard Alloy Progressive Tooling
| | |
| --- | --- |
| betaling Type: | L/C,T/T,D/P |
| Incoterm: | FOB,CFR,CIF,FCA,CPT,CIP |
| Levertijd: | 140 dagen |
Basis informatie
Model: D100232
Toepassing: Auto
Materiaal: Hardlegering en Staal Bonded Carbide
Verwerkingsmethode: Ponsen en scheren Mould
Techniek: Het vormen van sterven
Procescombinatie: Progressieve Die
Productietechnologie: Automatiseringstechnologie
Driving Motor Type: Permanente magneet
Mold Cavity Technology: CNC frezen
Freesnelheid: Hoge snelheid
Onderdeel Detectie Methode: Meting van drie-as NC
End Customer: Ford
Die Size: 3500*1200*75mm
Material: S355MC
Press Tonnage: 800T
Additional Info
produktiviteit: 20-30 dies per month
merk: SunnyTool
vervoer: Oceaan
Plaats van herkomst: China
Certificaat: ISO 9001:2008
Beschrijving
Stempelen Progressieve Die Gereedschapsvormen hebben veel voordelen, zoals:
1. Hoge efficiëntie en tijdbesparend voor progressief gereedschap.
2. Lagere arbeidskrachtenkosten.
3. Stabiele stempelkwaliteit.
Project Management Chart
1. PO beoordeling
2. Tooling Standaard Training & Illustratie
3. Internal Design Review
4. Client Design Review Support
5. Inkoop van grondstoffen
6. Machining Tracking
7. Montage en spotcontrole
8. Part Quality Control
9. Interne Finale Buyoff
10. Verzendregeling
11. Home Line Support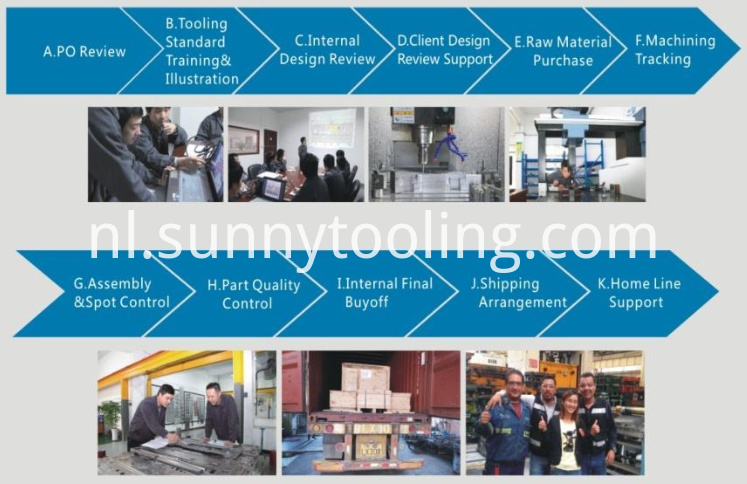 | | |
| --- | --- |
| Brand Name | Sunnytool |
| Model No. | D100232 |
| Application | Car |
| Certificate | ISO 9001:2008 |
| Country of origin | China Mainland |
| End customer | Land-Rover, BMW, SKODA, Ford, Jaguar, Renault, Chrysler and so on |
| Material | Stainless Steel and Aluminum(hard steel or soft steel) |
| Technics | Stamping Die |
| Manufacturing Technology | Automation Technology |
| Cavity | Stamping tool 1 part out or 2 same parts out or 2 symmetric parts out per stroke |
| Size | According to the tool design of the part. (up to 4400 mm) |
| Weight | Ranging from 800 kg to 15000 kg |
| Processing Method | Punching and Shearing Mould |
| Parts Detection Method | Measurement of Three Axis NC, CMM |
| Required Tonnage | Ranging from 125 t to 800 t |
| Package Method | Fumigated Wooden Case |
| Transportation | Stamping tool send by Ocean or Air required by our customers |
Kwaliteitscontrole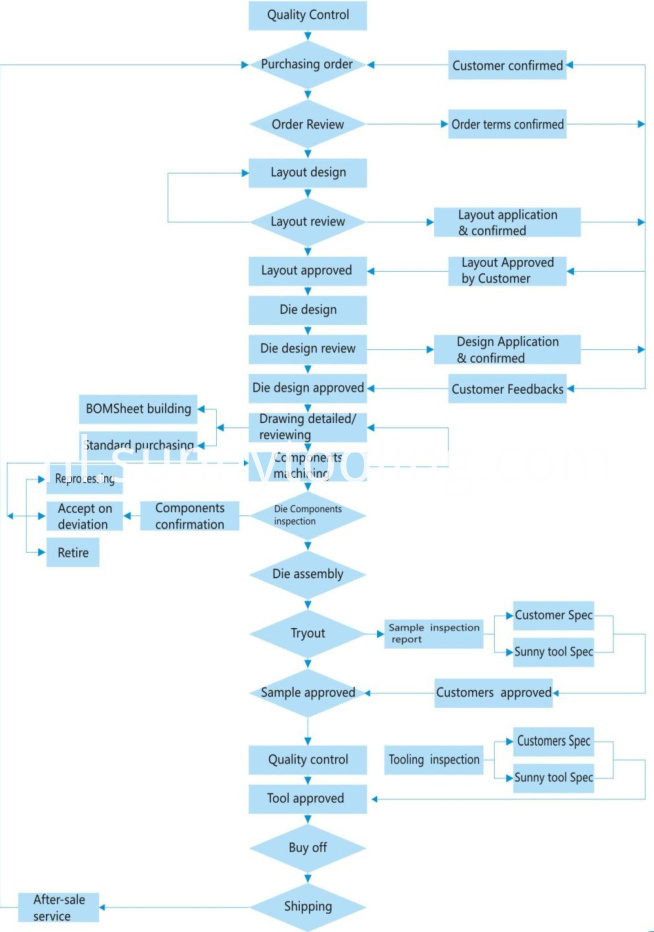 Basis Definitie
Progressieve sterven verwijzen naar dit soort sterven die veel werkstations bevatten. Als de stier werkt, kan het tegelijkertijd meerdere bewerkingen afronden. Telkens als de pers de persslag uitvoert, gaat de strip naar voren op dezelfde toonhoogte totdat het laatste deel is afgerond en wordt continu onderdelen voortgebracht.
Binnenlandse Ontwikkeling
De technologie van progressieve sterfgevallen werd in China in de 20e eeuw in China naar China vervoerd. Sindsdien is de technologie snel in China ontwikkeld en heeft de neiging en het potentieel om beter en beter te groeien. Met behulp van superieure apparatuur en hooggeschoolde werknemers kunnen wij hoge kwaliteit onderdelen en kosteneffectieve gereedschappen leveren aan onze klanten.
Kenmerken
1.High Efficiency
Omdat progressieve sterfgevallen veel werkplekken hebben, kunnen ze veel bewerkingen afmaken door het aantal werkstations en veel onderdelen in een korte tijd. Zo kan het gebruik van progressieve matrijzen om de productie uit te voeren, tijd besparen en de efficiëntie duidelijk verbeteren.
2. Maak gecompliceerde onderdelen
Door veel werkstations kunnen we het station aanpassen zoals gevraagd om de vraag te voldoen en de bevredigende onderdelen te produceren.
3.Lange levensduur
Het materiaal van progressieve sterven is meestal de hoge hardheidsmetaallegering, zodat de kwaliteit kan worden gewaarborgd en de stempel vaak gedrukt kan worden om de mechanische persen te duwen.
4.Safe
Werknemers moeten de strip alleen duwen terwijl ze progressief worden gebruikt. Zo kan het voorkomen dat potentiële schade aan werknemers wordt veroorzaakt.
Bedrijfsintroductie
Sunny Metal Tooling Co., Ltd werd in februari 2012 opgericht en behaalde ISO 9001: 2008 certificaten in 2013. Ons kernactivisme is het vervaardigen van metalen stempelen voor automotive industrieën. Met het huidige bouwoppervlak van 6000 vierkante meter heeft Sunny meer dan 120 medewerkers gebruikt. Onze state-of-the-art faciliteiten zijn gevestigd in Dongguan City, China, die bekend staat om excellence te produceren. Door gebruik te maken van superieure apparatuur en hooggeschoolde werknemers kunnen wij hoge kwaliteit en kosteneffectieve gereedschappen leveren aan onze klanten.
Bedrijfsvisie:
Het groeien als een van de middelgrote fabrikanten van auto-stempels sterft in deze industrie met de hoogste impact, geavanceerde technologie, perfect beheer en een hoge professionele service.
Mensen eerst in zonnig:
Er is een positieve sfeer die door Sunny op zowel de werk- als woonkamer wordt gebouwd. Werknemers werden hier vertrouwd en gerespecteerd en hier worden veel kansen om te leren en zelfspelen geleverd.
Bedrijf heeft betrekking op de eisen van klanten:
Om ons best te doen om aan de eisen van klanten te voldoen en de hoogste waarde te creëren voor hen.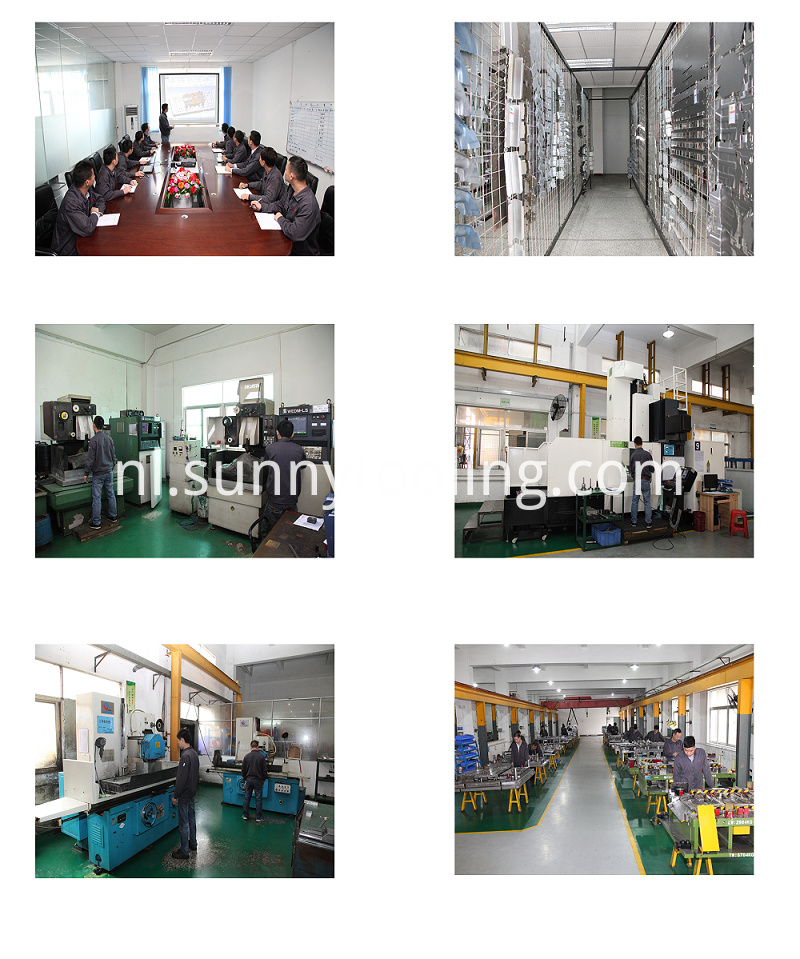 Product Categorie : Progressieve Die